A Message from Karen
" The meaning of life is to find your gift.
The purpose of life is to give it away."
William Shakespeare
THANK YOU FOR MAKING A DIFFERENCE
The Hope for Honduran Children Foundation is immensely grateful for your continued support during this very difficult time. Together we will endure Covid 19 and with great passion we will continue to rescue and serve the desperate children of Honduras. We will forever hold to the highest standards and with our strong convictions provide inspiration, hope, love and education for so many.
COVID 19 UPDATE: The pandemic continues to have dramatic impacts on Honduras. The borders are closed and the country
remains under a military enforced quarantine with a nationwide 8pm curfew. All individuals are permitted to travel for necessities just one day a week which is designated by the numbers on their ID card. Schools and universities continue with online classes, However, internet access is not available in most rural areas. A severe drought is compounding the difficulties facing everyone. Water has not been available for over two months. Hope for Honduran Children is planning to return to Honduras in 2021 once the borders are open, the vaccine is readily available and we adhere to all recommended safety measures.
Hope and Solidarity Prevail at Casa Noble
" We don't even know how strong we are until we are forced to bring that hidden strength forward." – Isabel Allende
Dear Friends,
Uncertainty has gripped the Honduran people. We are a society that is poorly prepared for a pandemic like the one we are currently experiencing. We have an extremely poor health system and if it were not for the support of other countries, it would not be possible to apply tests to diagnose COVID-19. With a high unemployment rate, an exceptionally large percentage of the Honduran population lives from day to day. This means that being in quarantine is even more worrying than COVID-19 itself. These are complicated days for everyone.
Health must come first, and it is an exceptional moment, therefore we are following the instructions of both health organizations and authorities.
Only in this way can we help combat the pandemic effectively. It is the time to be responsible and to stay at home, it is also perfect to enjoy this time to be with the family that you cannot always have. We as a group of young people have enjoyed the solidarity of a true family. We are continuing our studies, working on our English skills, participating in school activities, learning to cook, playing lots of games, and enjoying the music of our in-house band.
Our hope is that we can turn this situation around to become even better human beings again.
Thank you for your generous support—
Sending you hugs, love and hope,
Yelson
The Picture of Poverty in Honduras
Many people ask about living conditions in Honduras. I always explain that it is important to try to imagine living isolated in the mountains with no electricity, no clean running water, inadequate health care and no hope for a better tomorrow. We have accomplished much but we have only just begun! Imagine living in rural Honduras!
News from Honduras (February 2020)
Donor generosity has enormous and significant impact. A heartfelt thank you again to all our donors for making 2019 an extraordinary year for so many children! There is no child or teen in our programs who isn't profoundly grateful to their sponsors. In addition, we are again grateful to:
Michelle Burgess and Dress A Girl Ohio for creating over 500 beautiful sundresses for every young girl in our five villages.


Judy Pramik and her team for making countless dresses and shorts for young boys!


Ellen Mattingly for donating over 150 tubes of much needed toothpaste!


Cleveland State University Students for their generous donation of toothpaste, vitamins and backpacks
To the many girls who made the very cute dolls that found many loving homes


Special thanks again and ten thousand times again to all our donors for making another extraordinary year possible for so many children. There is no child or teen in our programs who isn't profoundly grateful to their sponsors.
CASA DOROTHEE de SAGRADO CORAZON
Fifteen years ago we built a home for girls in Nuevo Paraiso and now in January we opened our newest program – Casa Sagrado Corazon, named in honor of our treasured Abuela, Dorothee Riederer, who studied and taught at Sagrado Corazon in Washington, D.C. Located in Santa Lucia, Reina Valle of our sewing center is the "house mother". Each girl spends at least two hours each day at the sewing center. We are thrilled to introduce:


Ammi - is from a village close to Naguara and is in her final year of high school.
Marbely – is in junior high and is the sister of Yelson Plata.
Maria de los Angeles – is in her sophomore year of high school and her brother, Henry is the new Casa Noble resident.
Sponsor one of our students today and change the life of a child.
Click here to go to the page for sponsorship of a child
Casa Noble Update
A
s we say so often… A child of H4HC means No gangs, No drugs, and No illegal entry to the US… but rather college graduates with good jobs. Every year life seems to get better and better for the Casa Noble family! We are thrilled to welcome sixteen year old Henry to our Casa Noble family.
Darwin Rios
Christina Corbitt and Darwin celebrated their marriage (August 2) at the Temple in Salt Lake City with a lovely wedding reception following. In addition to the Corbitt family, among the many guests were Darwin's sister Elsa, her adorable children and at least ten H4HC volunteers who traveled from all parts of the U.S. to wish them well.
Recent Graduates
ALEX SAUCEDA graduated in November with a degree in education but will remain in the Casa Noble Home to continue his studies and earn a Masters degree in accounting
JOSE LUIS VELAZQUEZ graduated from the University in November and will remain in Casa Noble for four months to take an advanced course in education which will enable him to teach at the university level.
SANTOS MURILLO graduated from high school and will remain in Casa Noble while studying to become an auto mechanic.
10 Additional University Students
ELVIN AGUILAR Physical Education Instructor
Photo JARVIN AGUILAR Commerce & Business
SAHI AGUILAR Network Informatics Administration
JIMMY ILIAS - Commerce & Business
OSMAN LOPEZ LOPEZ - Accounting
JARI MURILLO Commerce & Business
YELSON PLATA – Business Administration
EDUARDO REYES – Radiology Technician
CRISTHIAN VALLE
ROSNY MANUEL ARGUIJO – Business Administration
NOREEN MACBEAN SEWING CENTER

The center is always a beehive of activity with new residents learning, older students busy with their micro enterprise and a growing number of local clients!

Casa Noble Micro Enterprise Team:
Fabricio Sauceda, Osman Lopez, Noe Lopez, Jose Rodriguez and Bryan Aguilar made and sold over 150 pouches to be used for travel, handbag/backpack organizer, cosmetic bag, eyeglass cases, etc. In 2020 the new students will focus on making the pouches while the experienced "business men" will work on high-end purses. Order an extraordinary pouch today!
EMAIL: kgodt@h4hc.org to receive photos and pricing.
TRAVEL HIGHLIGHTS
February 2020 Humanitarian Trip
Due to several battles with the flu, bad backs, etc. the recent team was unusually small but just as amazing, dedicated, and fun as ever!
A few of the highlights include;

Having Eddie Mora, his sister, Bessy , and his niece, Bessy #2 join our team – FABULOUS simply doesn't explain it!
A private walking tour of Zamorano (with a tasting of Marcala coffee) conducted by Eddie Mora
A very productive meeting and alliance with the Tegucigalpa Rotary

Teaching and delivering supplies, food and clothing to schools in Naguara, San Juan del Rancho, Flor Azul, Suyatillo and Santa Lucia

Providing 26 high school scholarships to students in Naguara

Providing an additional high school scholarship for Glenda in Suyatillo

Forming an entrepreneurship club with seventeen residents of Santa Lucia

Two amazing song fests at CAIPAC


Delivering dresses to the girls and shorts for the boys to every child in our villages

Delivering JOY - dolls made by young little girls to all our young little girls in the villages – they were so very excited.

PAST TRIPS
The Twenty Star June 2019 Humanitarian Trip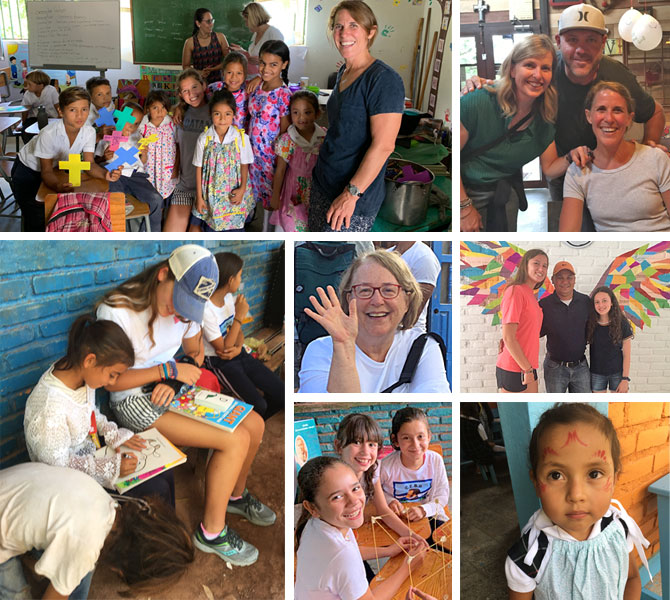 March 2019 John Carroll University Service Trip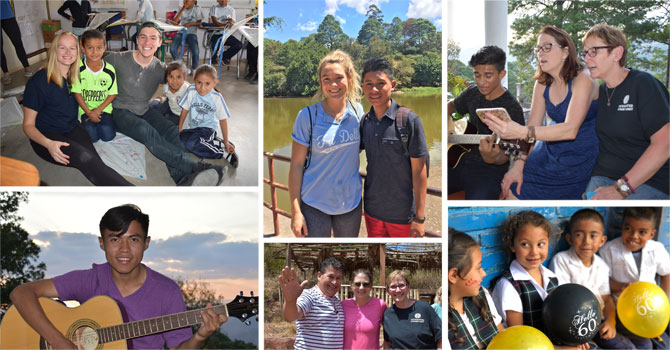 January-February 2019 Humanitarian Trip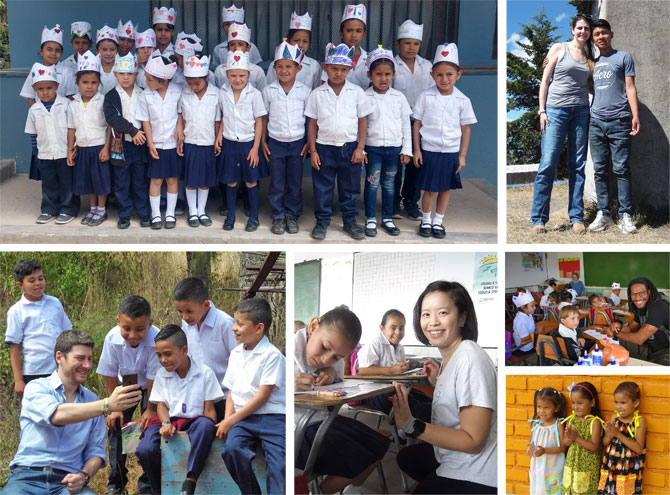 Click below to view Ten joy filled days from our June 2017 trip are best captured in this video production courtesy of Karen Corbitt


Make 2020 a most significant year and sponsor a child!!!!!