GIVE SOMETHING Beautiful
A $20 donation will mean the world to a child living in poverty. Please donate today and our Honduran director will purchase food, hygiene and school supplies for over 300 children and we will distribute everything during our February 2023 trip.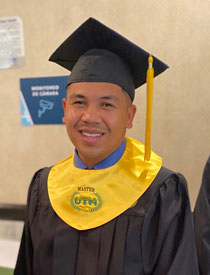 Dazzling News
Our Super Star, Alex Sauceda, completed his Masters in Finance at UTH in Honduras with the recognition of Magna Cum Laude. Words can't begin to describe how thrilled we are for him. Indeed, we are bursting with pride! Alex first came to Flor Azul when he was about 13 years old and on that first day we knew, without a doubt, that Alex would be an achiever!

With all the challenges we encountered on this trip, one would think we were scaling the Himalayas! A new airport, new Custom regulations, and two weeks of relentless rain causing many dirt roads to be washed out and consequently adding hours of travel time to reach the mountain villages. After a two year drought the rural communities were thrilled to welcome the rain and the gratitude and excitement of the children and teachers was so palpable that we kept our moans and groans to a minimum. Each day 5 or 6 students from Casa Noble and Casa Dorothee de Sagrado Corazon accompanied us as translators, sherpas, and supervisors of fun on the bus! They did a great job!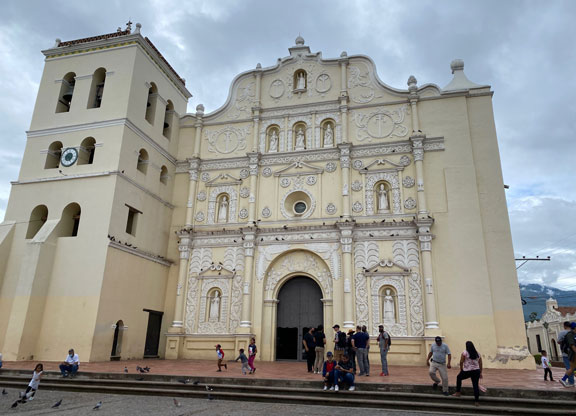 Saturday July 25 Arrival Day is usually a bit of a hassle but due to seriously delayed flights, everyone's patience was put to the test. The good news…the rain stopped and for the next week was only expected late at night! We waited for the delayed flight in the lovely colonial town of Comayagua.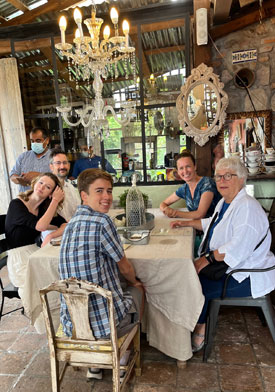 Sunday We attended Mass at the colonial Church in Santa Lucia after which we stopped for "refreshments" at the tea house and/or the Bendito Café. Next stop was a delicious lunch at the Kolibri and then off to enjoy festivities and shopping in Valle de Angeles. The evening was spent sorting donations for each village.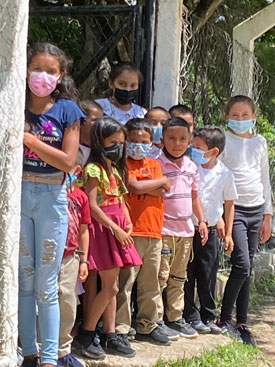 Monday It was an unusually long but very worthwhile ride to Naguara with an emergency visit to the donut shop in San Francisco. We were heartbroken to see Covid's dramatic impact on the 34 school children.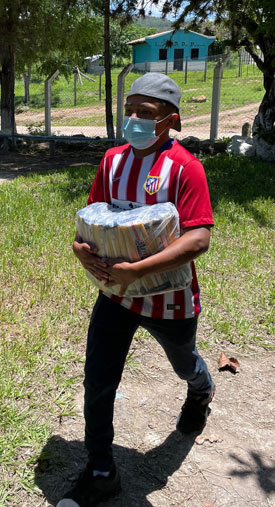 There was little or no access to education for over two years due to Covid and the isolation of this mountain community. The team delivered much needed food, new clothing for each child, storybooks for each grade level, and most importantly, a sense of hope and pure joy!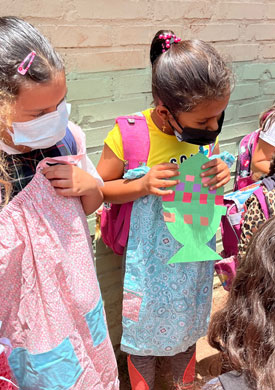 Tuesday It was quite the bumpy (but not that long) ride to San Juan del Rancho! It was such a thrill to see everyone again and the students and teachers were positively jubilant. Our pre trip fundraising drive was wonderfully successfuland enabled us to provide sustainable support to this school for over 200 students. The government recently assessed their need and pledged a once-a-month delivery of food (oil, flour, beans, rice and eggs). With many, if not most, students walking over 2hours each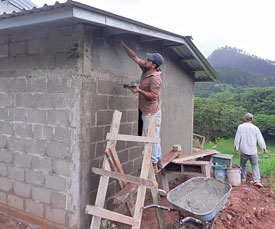 morning to get to school, there was a need for an onsite kitchen in which to prepare the one meal a day each student will receive. With the support of many donors, Hope for Honduran Children purchased all the materials and the community undertook the actual construction. Later in the day we returned to Santa Lucia for lunch and that all important soccer game!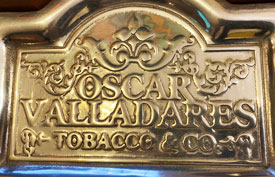 Wednesday Another long ride but well worth it to the revered Oscar Valladares Cigar Factory in Danli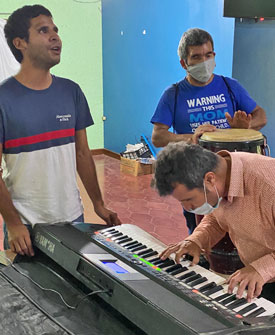 where we were enthusiastically welcomed, learned about the process of making cigars by hand, posed for many photos, and purchased boxes of cigars! Everyone found it very informative and lots of fun. Back to Santa Lucia for a quick lunch and next stop – CAIPAC, the Center for the Blind where we sat with the students and enjoyed a fabulous concert provided by a pianist and two incredible vocalists. As always, we spent another fun evening at Casa Noble.
Thursday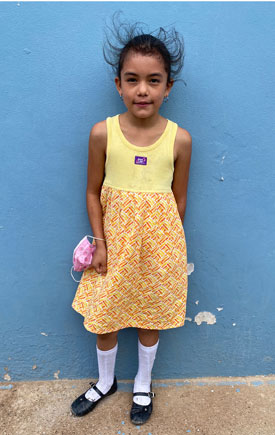 It was a two schools & pizza day. Providencia is our newest school with 22 very attentive students. The teacher is very dedicated, the students very grateful and our support will be ongoing. Both Marbeli and Yelson Plata attended this school and, during our visit we were thrilled to share time with their Mother and sister, Dinia.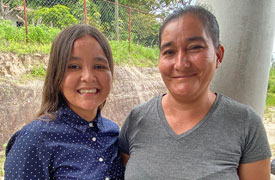 Next stop – Teacher Dixia and the 24 students of Suyatillo. Dixia arranged that she and all the little girls would wear the dresses we had brought them a year ago. It was such a wonderful sight and yes, we brought new dresses again. We also delivered new shorts for the boys, storybooks for each grade level, hygiene supplies and again, much needed food.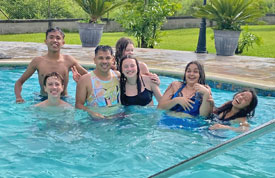 Friday The team enjoyed a free morning with time for packing luggage, sipping coffee at the Bendito Café and hiking! Karen and John were attending Alex Sauceda's incredible graduation in Tegucigalpa. At noon 37 of us arrived at Neptaly's hacienda for a fabulous picnic and day of sunshine and swimming. Another wonderful dinner at the Kolibri where they gifted each of us with a Kolibri coffee mug. We were off to Casa Noble for a touching despedida and super festive shindig filled with music, laughter and dancing.
Saturday It is always difficult to leave the love, laughter, generosity and joy of Honduras. Yes, unusual challenges were ever present on this trip but joy, happiness, and purpose triumphed! Our next trip is scheduled for early February and since it will be during the dry season, there will be no lengthy bus rides!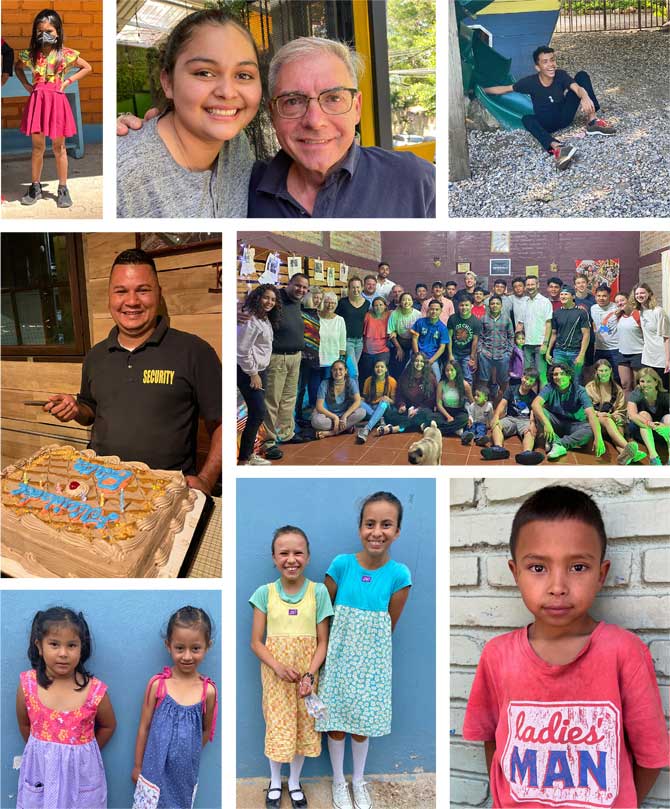 The H4HC Learning Club & Community Think Tank

In Honduras 4 million people live in rural mountain villages trying to survive extreme poverty and the lack of education. The substandard public education stops after sixth grade. There are very few high schools and impoverished families struggling for food, do not have the resources for school supplies, uniforms, fees, transportation, etc. Instead, children must help the family survive by working in the fields, selling eggs, tortillas, etc. We will continue to say the Tibetan proverb again and again:
"A child without education is like a bird without wings"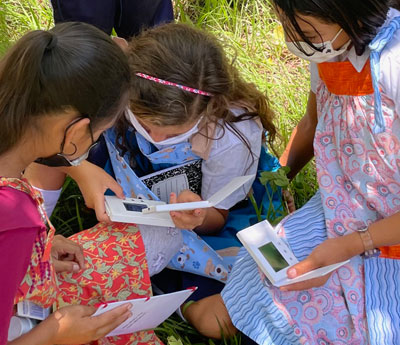 Hope for Honduran Children is working steadfastly to help them soar! Schools have been closed throughout Honduras with no plans to reopen in the near future. Online learning is the only available option but most rural children do not have online access. Students grades 4 through 9 at San Juan del Rancho School are enormously grateful to the supporters of the H4HC Learning Club. With your help, 118 students are now receiving lessons on their new devices provided by Hope for Honduran Children that are not dependent on the internet. Video lessons are in Spanish and include grade appropriate lessons in math, science, English and Spanish with more to be added in the very near future.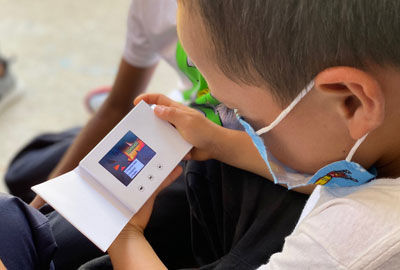 We are expanding the Learning Club to include a Think Tank Program for adults wherein we provide village leaders with video programs to share with the community. Topics to be covered include: equality, micro finance, healthcare, nutrition, entrepreneurship, gender-based violence, addiction, recovery and much more.
Our ultimate goal is to provide education for the underserved villages and to construct small Learning Centers to function as community libraries, where the adult population can access, learn and be inspired by many innovative ideas.
If you are able assist with this program in any way, please contact Karen at kgodt@h4hc.org
We need YOU!